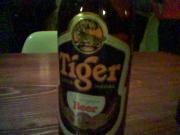 They give me free beer, I post photos of their product. I think that's fair.
Seriously, though, it was a wicked little setup they had at The Public House. Surplus quantities of beer, duck soup, unidentifiable little meatball things and even appropriately attired Asian girls. All very lovely and conducive to getting a little drunk.
Jess and I posed for photos a couple of times, each apparently to go into a local rag. How cute.
The question for tonight is of course: Will I be able to sleep? Last time I did this I couldn't, though that might well have been due to the excitable girls who were staying down at the house on Phillip Island with me. I guess they'll be there tomorrow, too.