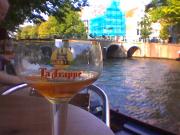 Found a very nice spot devoid of tourists.
It's seriously warm here. I need sandles.
(back at the hostel now)
Ahh more Linux goodness; this one is definitely Gnome, Lucas ;-) Which one did I like again? I can't remember.
I've had the Jet song "Move On" in my head for a few days now. Mainly because it's almost time to go home and I have quite a few train trips behind and ahead of me. I think the lyrics sum up my mindset quite well. I tried unsuccessfully to buy the album yesterday so we could crack it out at the hostel for my last night in Brussels. Luckily a German girl had a Powderfinger CD so that did the job instead.
Was a bit sad this morning at about 1am when I called it a night. It would have been very, very easy to spend my last two nights in Brussels; that hostel had possibly the most enjoyable party atmosphere of any I'd been to, and I'd made a few good, fun friends by the time I left. But "Yeah, gonna have to move on, before we meet again" and after breathing fire (photos to come!) I loped off to bed for the early train to Amsterdam.
And so we did. I ran into a guy I met in Brussels and have already covered quite a lot of ground in this – rather small – city. Had to get an early train (ok, 9:41am) because hostels here fill up very quickly and they don't take reservations this late.
This hostel is actually a bit different to most, probably because right now I'm surround by some hella stoned people. (Yes believe it or not they're not usually like that) Funny how people come here and spend their entire time being – for all intents and purposes – asleep.
Dunno what the plan is for tonight, but it's not cooling down quickly so it'll very likely be a late one.