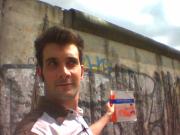 The ASP book in front of the Berlin wall.
Yeah, hey that picture worked kind of well. I guess I should grab another one in front of something more recognisable but that really is one of the few remanants of the Berlin Wall.
Reckon I've seen everything touristy here. One thing I'd like to do is checkout the National Gallery because they've got a huge number of items on loan from the Museum of Modern Art in New York. But my Danish friend Jorgen queued up for 5 and a half hours this morning (from 9am!) to get in so it looks doubtful.
I like the way they pretend they have a beach here by setting up deckchairs on a big pile of sand they've amassed at a bar alongside the river.
I also get the impression (through reading an English language expat mag) that there is a serious socialist hangover happening, and that a lot of Berlinites aren't particularly comfortable with capitalism.
The rail network here is seriously awesome.
Going out with a group of Spanish girls tonight, entirely for Jorgen's benefit I assure you :-)